A Good Business Coach Can Provide Momentum
It doesn't matter if you're an established entrepreneur employing a few staff, or at the start of your business journey, it's easy to get stuck doing the same, safe things at the expense of growing your enterprise. This is where having a business coach can pay dividends. It's much cheaper than employing a business manager full time. That's why organizations like SBA provide the option of mentors for inexperienced entrepreneurs - to offer a clear vision of what is possible and how to make it happen.
Many entrepreneurs have masses of fire and internal drive, but struggle with the practical knowledge of how to grow their business. A good business coach can help ascertain which goals are actually feasible so that it's easier to keep focused on them.
One of the weaknesses of business owners is a desire to stay in the comfort zone because of a fear of attempting something new or going in a different direction. This is totally natural as failure can quickly kill a business. A good mentor will be aware of current industry trends and suggest how the entrepreneur can jump on board. For example, which demographic should be targeted when it comes to marketing or which trendy ideas are worth investing time and effort in with a good chance of success. A good business mentor will make sure that such ideas are only implemented when the company is ready - so that money and effort is not wasted.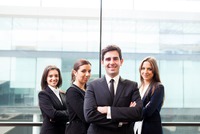 Entrepreneurs are often so close to their business that they can't see the bigger picture. A coach will better be able to identify weaknesses and strengths that the business leader has overlooked. Indeed, they could well spot a weak spot and have the advice on how to easily turn it into an advantage. Creating momentum may be a simple tweak away.

Entrepreneurs often have a very clear idea of where they want to get to, it's simply the lack of knowledge or confidence of the methodology that stops them. A good coach will help create both long term and short term strategies and goals that are both challenging and achievable. If the industry is well-known to the coach, this will be all the more possible.
The contemporary business coaching will not simply tell the business leader what to do. They will have looked at and assessed all aspects of the business - including liaising with employees at all levels. This will allow the mentor to develop a completely objective piece of advice and strategy that an entrepreneur may otherwise struggle to attain.